Have you created your Google my business page (GMB) for your business?
We've all been on Google and searched for a business and have seen a panel in the left hand corner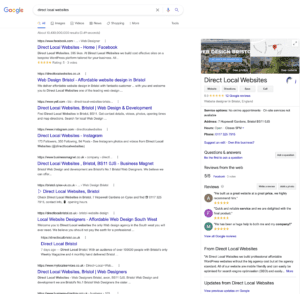 Well did you know you can have one for your business even before you have started it?
Why should you create a GMB for your business, well as soon as your customer types in your exact business name (direct local websites) it will come up with all of your details, therefore them looking for you even quicker, along with the help of quick buttons like Call, Website, directions, book and more.
Do you need to pay for a listing?
No, all you need is a Gmail account and then it is as simple as following the instructions on page, you may have to wait up to 4 day to receive a postcard from Google to verify your business, and location, which they will give you a 4 -6 digit code to activate your account. However, there are some other options, like a phone call or email.
Get your Google My Business page now, less than 5 minutes to set up!